By: Dan Meade
Provided by WorldNow
Before driving anywhere with your pet, be it a trip to the grocery store or a trip across the country, there are a few important things to keep in mind. These fall under three categories - safety, health, planning - and there are resources available to help you with each.
Safety
When you get into a car, you buckle yourself in and put your child in a car seat, but one member of the family often gets forgotten - the family pet.
Bark Buckle UP, a leader in the pet safety industry, has partnered with Volvo Cars to help raise awareness about keeping your pet safe while riding in the car. Together they are running "Pet Safety Days" at Volvo dealerships nationwide.
Open to the general public and their pets, the Pet Safety Days teach pet owners about pet safety products and give tips for traveling safely with pets. The Pet Safety Days started in the Summer, and a full list of all the Pet Safety Days can be found on Bark Buckle UP's website.
When the Pet Safety Days partnership was announced, Christina Selter, the founder of Bark Buckle UP, pointed out that "currently less than 2% of American pet parents restrain their pets while traveling." She stated that, "our goal, together with Volvo, is to educate people to ensure that pet safety, before and after an accident occurs, becomes a top priority."
Selter continued by listing some of the consequences of having an unrestrained pet in your car, "In the event of an accident, an unrestrained pet can escape and be hit by another vehicle, cause another collision, or attack emergency crews trying to reach an injured party."
If you were to get into an accident while driving 35 mph, a 60-pound unrestrained dog could cause an impact of 2,700 pounds, slamming into a car seat, windshield, or passenger. If the dog if not seriously injured, it can get in the way of rescue workers, costing them precious time in their efforts to help those hurt in the accident. The last thing an ambulance crew needs upon arriving at an accident scene is to have a scared and protective dog guarding its family in their way.
Fortunately, even without attending one of the Pet Safety Days, there are steps that you can take to make traveling with your pet safe for all involved. Bark Buckle UP provide a list of pet safety products on their website that are available for purchase.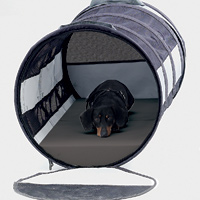 The Pet Tube ranges in price from $76 to $146.
(© PetEgo)
This list includes many different options for pet owners looking to keep their pets safe. The Pet Ego Pet Tube, which can be compressed in size to provide a safe restraint for pets of all sizes, is one of the restraint options listed. A conversion kit also turns the Pet Tube in a pet carrier for after you reach your destination. For smaller animals, the Sleepypod is a domed bed that can also be used as a carrier.
When choosing a restraint or carrier, the ASPCA recommends that it be large enough for your pet to stand, sit, lie down and turn around in.
The ASPCA goes on to recommend that if your dog will be riding on the seat, and not in a restraint or carrier, they should be put in a harness and safety belt to keep them secure in case of sudden stops or changes in direction. All pets should be allowed time to get used to any kind of carrier or restraint before they are expected to ride inside it. It is recommended that cats should always be in a carrier when traveling.
Health
Beyond restraint and carrier options, there are other pet safety concerns that owners should be aware of. Four concerns that the ASPCA highlights may sound obvious, but they often get overlooked:
Never leave your pet in a hot car, even for a short period of time. Even in short periods of time, or with the windows open, the temperature of a car and increase to harmful levels very quickly.

You should always bring water for your pet when you travel with them. Remember though - like you, they should not drink while driving!

Bring your pets' papers with you, especially their vaccination records. Some states, such as California, won't let you in without them.

Make sure your pet's ID tags are up to date. They should have both your information, and the information of where you are headed (such as you hotel's phone number).
For more tips from the ASPCA, see their website.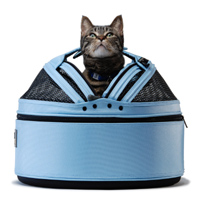 The Sleepypod ranges in price from $149.50 to $165.
(© Sleepypod)
Planning
The American Automobile Association, better known as AAA, has an entire book devoted to Pet Safety. They offer pre-trip advice that can save pet owners from hassles or headaches that might result from not planning ahead:
Get a clean bill of health from the veterinarian. Make sure that your pet is healthy enough for your trip. This is especially important for older pets, or those with a history of health issues.

Brush up on good behavior. Unfamiliar travel situations may test the temperament of even the most well behaved pet. To re-enforce and reward their good habits, be sure to bring your pet's favorite treat along for the ride.

Learn about your destination. Be aware of safety and health risks at your destination, and plan accordingly. Local insects or the change of daylight found in a different time zone may affect your pet more than they affect you.

Determine the best mode of transportation. Whether you're traveling by car, air or other options, consider any restrictions on pet type and size before you go. These restrictions may also apply to your carrier as well.

Pack as carefully for your pet as you do for yourself. AAA provides a checklist of necessary items in their Pet Book, but you can also make your own list of items to bring: medicines, food, favorite toys and/or treats, leash, etc...
Don't feel daunted by all these things to keep in mind while traveling with your pet. If you take each concern - safety, health, and planning ahead - one at a time, both you and your pet will have a better trip for the effort.
In the end, all this preparation comes down to safety. For a safe, healthy, and happy trip with your pet, you simply need to remember to plan their trip as you plan yours. Finally, once you get into the car, remember to buckle up your pet - because they can't buckle themselves.