EIN Presswire | Newsmatics
How Gatsby Investment is Creating More Affordable Options in the Expensive Los Angeles Housing Market
News provided by
EIN Presswire
Jun 28, 2023, 12:00 PM ET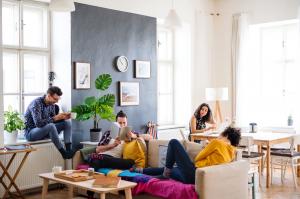 A group of young roommates relaxing indoors, co-living concept.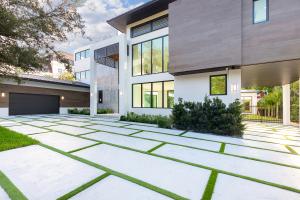 Modern multi-family development with large floor plans to accommodate multiple roommates
Gatsby Investment Syndication Company
Through the development of new multi-family structures with co-living designs, Gatsby is creating opportunities for renters to live comfortably in LA.
LOS ANGELES, CALIFORNA, USA, June 28, 2023/
EINPresswire.com
/ -- In an ongoing analysis of local housing market trends, Gatsby Investment, an LA-based real estate company, has discovered an under-utilized strategy for creating more affordable living situations for the millions of people who want to live in the City of Angeles.
Gatsby's strategy focuses on "co-living," in which multiple roommates share a large housing unit. Co-living has always existed in high-priced housing markets, but it has traditionally been viewed more as a clever renter hack that a purposeful developer design.
Take FOX's New Girl for example. This enormously popular sitcom followed four twenty-somethings living in a large loft near downtown Los Angeles. The entire premise hinges on the idea that young professionals cannot afford to live alone in LA (even back in the 2010s). So, to reduce the per-person rental expense, they share the rent on a four-bedroom loft with a large communal living area. Their roommate hack works well, allowing these twenty-somethings to live in a thriving city while establishing themselves financially.
Crunching the Numbers to Save Renters Money
As of May 2023, the
median monthly rental rate
for a one-bedroom apartment in Los Angeles is $2,443. To afford a one-bedroom apartment as a single person, you would need an annual income of around $73,300 (using the local property management requirement that a tenant earns at least 2.5 times the rental rate).
The average four-bedroom unit in Los Angeles currently
rents for $6,500
. Divided between four roommates, each person would be responsible for $1,625 per month. This represents a 33% savings for each roommate compared to renting a one-bedroom alone. And it reduces the required annual income per person to $48,750, which is a much more reasonable income target for your professionals living in the city.
The Problem with the Co-Living "Hack"
While the math explains why today's residents are co-living in large units, this renter hack leaves something to be desired. First, $6,500 is still a lot of money, even when split among roommates. Secondly, units with this many bedrooms are hard to find. And finally, these floorplans are typically designed to accommodate family units rather than multiple adult roommates.
Getting back to the New Girl example: the living situation for the four roommates is far from ideal. The single shared bathroom creates a queue for the shower, and there is an all-out battle for the sole parking space.
Now, what if developers actually designed units for these co-living roommates? And what if they built more of these units so that this layout could be accessible to more of today's renters? And what if they could be built more affordably so that they could be offered at a lower rental rate? That's what Gatsby is doing now.
Building More Co-Living Units Designed to Serve Today's Renters
Gatsby Investment is committed to helping ease the housing shortage across Los Angeles. Gatsby understands that the aggressive rental growth rates of the pandemic era are not sustainable, and it is in everyone's best interest to increase the available housing inventory so that growth can continue at a supportable rate.
Without reasonable housing prices, LA cannot hope to attract new residents. In fact, the City of Los Angeles saw a population decrease of nearly 3% from 2020 to 2023. According to Dan Gatsby, Founder and CEO of Gatsby Investment, "We have found that a percentage of Angelinos have been forced out of the area because of the lack of affordable housing options. Many of those who relocated are choosing to stay close, moving north into the San Fernando Valley or east into the Inland Empire. This indicates that people want to live here. We just need to create more affordable housing options so that those Angelinos can come home to the city."
Gatsby Investment is in a unique position to add affordable inventory to the market. As a real estate investment syndicate, Gatsby pools money from accredited investors to develop new multi-family structures, providing solid returns to investors while creating new housing.
Gatsby's strategy is to find single-family lots that are zoned to accommodate multi-family structures. In many cases, a derelict single-family home can be torn down to make room for a more equitable multi-family structure with 4-10 units. This is more cost-effective than purchasing large, expensive lots zoned exclusively for commercial property. Then, because Gatsby completed several developments per year, they can use economies of scale to get discounts on labor and materials. Furthermore, with Gatsby's innovative online investment platform, which relies on automation to streamline the process, the administrative overhead costs of the investment project are minimized. And finally, Gatsby avoids the high-maintenance, high-expense amenities like fitness centers and pools, opting instead for low-expense amenities like parking and rooftop decks.
With these cost-effective measures, it's possible to offer a four-bedroom for closer to $4,000 per month, charging just $1,000 per roommate. At this rate, each roommate would need an income of just $30,000 to avoid their unit. Not only is this income goal more achievable for young professionals, but it also makes the units more accessible to students. And these lower rental rates could give more Angelinos the opportunity to save money for a down payment on a home of their own in the future!
Importantly, Gatsby is designing these structures specifically for co-living roommates. The traditional four-bedroom floorplan consists of a primary suite, typically with its own bathroom, and three smaller bedrooms, which share the guest bathroom. Gatsby's four-bedroom designs feature four similarly-sized rooms, each with its own bathroom. Gatsby's properties also offer a parking space for each bedroom. This is much better suited to roommates who are looking to have their own space and split the rent equally.
The Future of Affordable Housing in Urban Markets
As more renters seek out multiple roommates to make housing more affordable, Gatsby is actively working to establish a blueprint for the future of affordable housing. Through strategic cost-saving measures, purposeful co-living design, and continually increasing inventory, Gatsby has found the formula for providing reasonably-priced housing in high-value markets. This type of socially-conscious real estate development is something we hope to see more of from real estate investors and developers moving forward.
To learn more about Gatsby Investment, including its goals, strategies, and investment opportunities, visit the
Gatsby Investment Website
.
Josefin Gatsby
Gatsby Investment
+1 866-428-7291
info@gatsbyinvestment.com
Visit us on social media:
Facebook
Twitter
LinkedIn
Instagram
NOTE: This content is not written by or endorsed by "8News", its advertisers, or Nexstar Media Inc.
For inquiries or corrections to Press Releases, please reach out to EIN Presswire.