Award shows, such as the Grammys, are a fun way to get friends and family together in a nonsport setting to enjoy TV, laugh at unexpected moments and appreciate musical arts. With Grammy night around the corner, here are some fun ways to embrace the theme, amplify your entertainment and make your guests feel a part of the night's festivities.
In this article: Lemonsoda 15-foot Red Carpet, Fujifilm Instax Mini 40 and Verkstar Karaoke Mic.
When are the Grammy Awards on TV?
The Grammys air on Feb. 5 at 7 p.m. on CBS and Paramount+. However, red carpet coverage and other supplementary coverage will air throughout the weekend, so plan your party early.
Make it a red-carpet event
Get into the Grammy mood by giving your guests something special. Awards shows are about spectacle and opulence. While you might not have the Hollywood designers or budget, it doesn't mean you can't pretend. After all, it is a celebration of the arts.
There are lots of red carpets made specifically for nights like this, so make sure you get one that fits your unique entry point, be it your front door, back gate or a trail to the screen you're watching it on.
Want to add more Hollywood flair? Get an instant camera, and bring the selfie station back to the days of Polaroid and film. You can even get a backdrop or create your own with items around the house so people can feel as rich and famous as the people on the television.
You can buy trophies and hand them out to your most well-dressed guests or record their walk to your friends on Instagram. However, the party doesn't start there. You'll also need to remember the reason behind the whole musical ordeal.
Don't stop the music
Don't forget a good speaker to play your custom Grammy soundtrack. This might mean connecting your old sound system or purchasing a new Bluetooth speaker or set. If you're feeling fancy, you can get a DJ station for nonstop music during commercial breaks and after-parties. If you want to do more than listen to your favorite song, you can hold a Grammy-themed karaoke party. All you'll need is a karaoke machine.
Musically themed food and drink options
Of course, you can't have this party without a spread worthy of the stars. There are plenty of clever ways to keep the Grammy theme consistent. You can have themed food, drinks, plates and cups.
Lots of people love to make Grammy-themed cocktails and food items. In fact, there are cookbooks and cocktail recipe books made with this theme in mind. From recipes inspired by a particular song to your favorite performer's favorite dish, get creative, even if it means giving a punny name to your go-to party dish.
Best products for a Grammys watch party
You might not be at the theater itself, but this simple and affordable red carpet rolls into place and makes for a perfect mood-setter for guests as they enter your party. The 15-foot carpets come with adhesive tape to keep them smooth and trip-free.
Sold by Amazon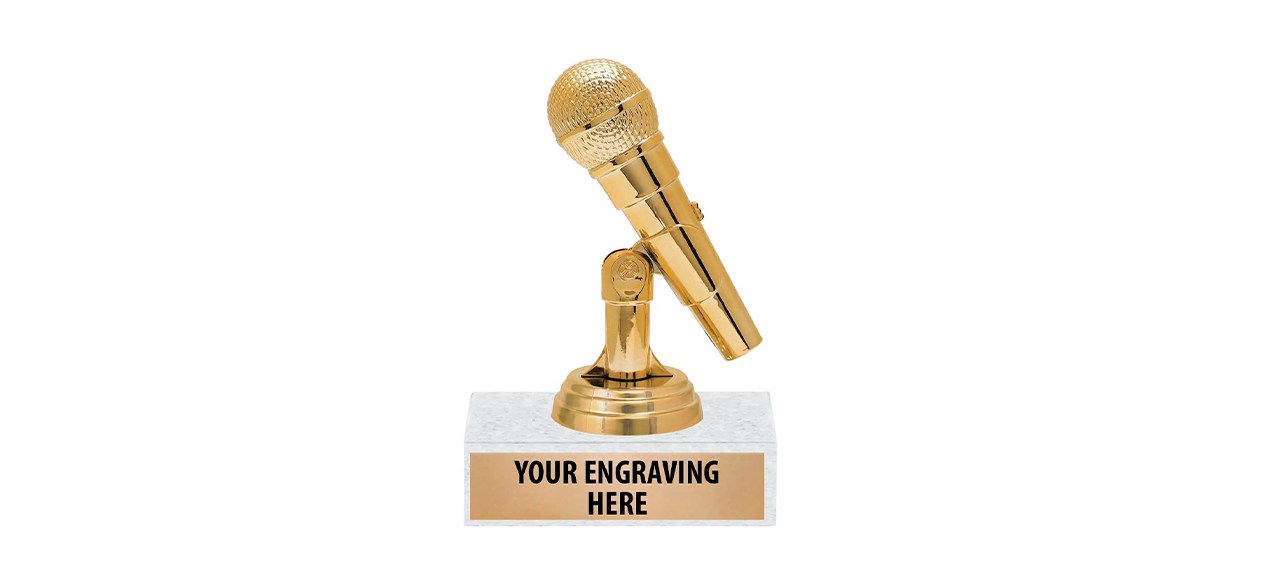 Crown Awards Microphone Trophy
These fun musical trophies