In a season full of lows, the Washington Commanders' season hit its lowest point with a 31-19 loss to the New York Giants on Sunday at FedEx Field. 
It was as ugly as you would expect for Washington to lose to a team on its third-string quarterback. Along with the Commanders (4-7) being unable to stop Giants (3-8) quarterback Tommy DeVito, they turned the ball over six times.
This was the kind of loss that sparks wholesale changes throughout a franchise, and those changes may not be far off. Here are three takeaways from the Commanders' worst loss of the season.
Related: 'It's A Low Point': Rivera In Trouble as Commanders Doomed by 6 Turnovers in Loss
Turnovers, turnovers and more turnovers
A lot has to go wrong for a team favored by over a touchdown to lose by two possessions. The first step toward an upset is a team's inability to take care of the ball, and Washington checked that box emphatically. 
Washington turned the ball over six times, and those six turnovers led to 24 of the Giants' 31 points. Christian Rodriguez Jr., Byron Pringle and Logan Thomas each fumbled. Rodriguez's fumble came late in the third quarter when the Commanders were deep in Giants territory and were a field goal away from taking the lead.
Sam Howell threw three interceptions, the last of which came with under 30 seconds left in the game and was ran back for a touchdown by Isaiah Simmons to ice the game. 
A lot had to go wrong for the Giants to have a chance, and that was more than the case on Sunday with Washington turning the ball over six times. 
Struggles against the Giants continue
On the bright side, maybe this will cost New York in its search for a franchise quarterback in the 2024 NFL Draft.
Nevertheless, Washington is now 0-3-1 in its last four meetings against the Giants, and this loss was easily the worst of the bunch, as they were without their top two quarterbacks, Daniel Jones and Tyrod Taylor and tight end Darren Waller.
Washington's defense was torched by DeVito, a rookie quarterback who got signed by New York as an undrafted free agent this past offseason. He completed 18 of 26 passes for 246 yards and three touchdowns. DeVito also didn't turn the ball over once despite being sacked nine times. 
Saquon Barkley also had a huge game for the Giants with 14 carries for 83 yards and four catches for 57 yards with two receiving touchdowns.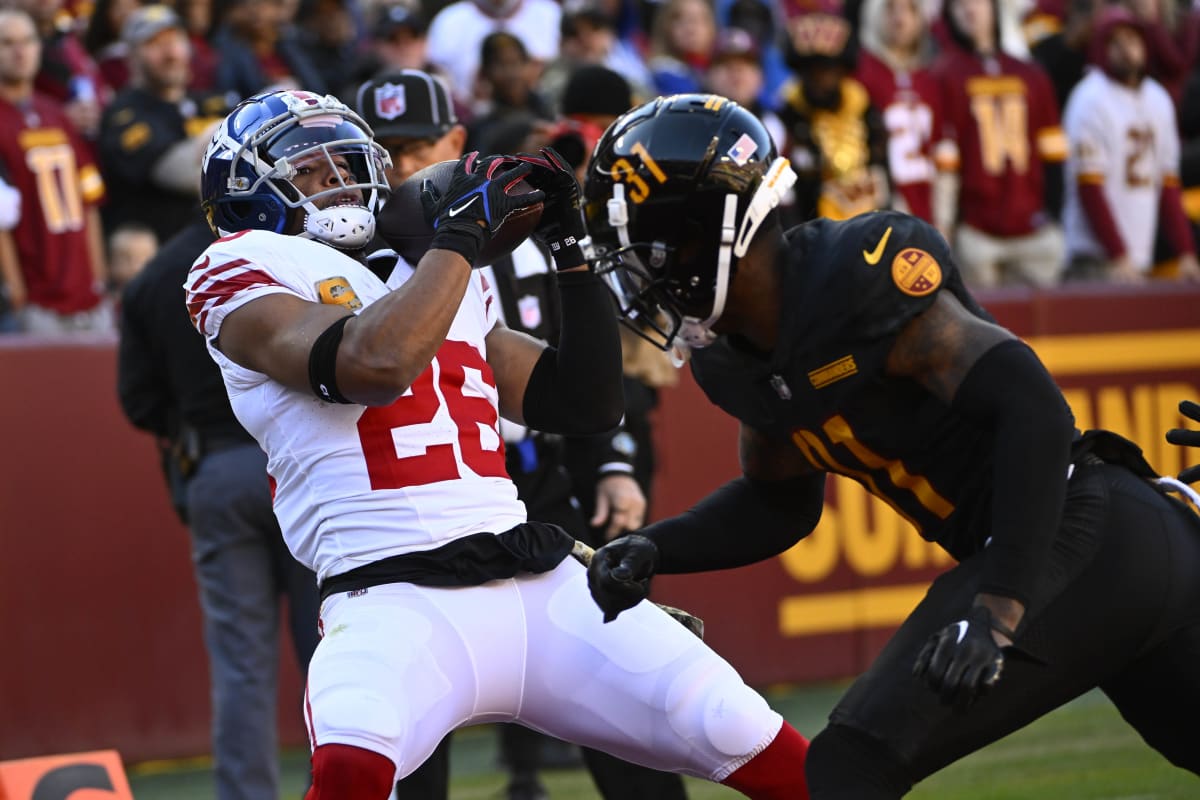 The Commanders also lost to the Giants 14-7 on Oct. 22 at MetLife Stadium.
The Commanders have now been swept by the Giants and Philadelphia Eagles this season and still have to play the Dallas Cowboys twice, with their first meeting taking place on Thanksgiving.
Final nail in the coffin for Ron Rivera
If it wasn't for Washington having a short week, this likely would have been Ron Rivera's last game as the franchise's head coach. 
For a team that still has an outside shot at a playoff berth to no-show against a division rival that just lost by 32 points a week prior is inexcusable. 
'It's a low point, that's for sure,'' Rivera said. 
At some point, Washington will be better off seeing what they have in offensive coordinator Eric Bieniemy. The improvements on offense this season should earn him a shot to lead the team for the final month of the season and see if he's the right guy to lead Washington next season.
With a mini-bye week after playing on Thursday and the Commanders' bye-week being three weeks away, the clock appears to be ticking for Rivera as his seat is as hot as it has ever been. 
And if the Commanders turn in another embarrassing performance on Thursday in front of a national audience, that could be what seals Rivera's fate as the Commanders' head coach.