Body camera footage captured the moment two deputies with the Wise County Sheriff's Office rescued a man who attempted to jump from a bridge in Appalachia.
On Monday, Dec. 4, Deputies Anthony Walsh and Alex Stallard responded to the bridge for a reported distress call. When they arrived, they found a man standing on the bridge, threatening to jump.
"Understanding the urgency of the situation, both deputies immediately engaged in communication with the individual, employing their extensive crisis intervention training to dissuade him from taking his own life," a spokesperson with the sheriff's office said.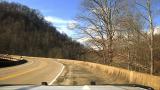 A vehicle was seen engulfed in flames in a business parking lot off of Midlothian Turnpike on Monday afternoon.
The vehicle fire was located in the 11300 block of Midlothian Turnpike. Photos captured at the scene around 1:15 p.m. showed black smoke billowing from the flames.
Chesterfield County fire crews have responded and are currently at the scene.
https://www.wric.com/news/local-news/chesterfield-county/photos-vehicle-engulfed-in-flames-in-parking-lot-on-midlothian-turnpike/